Pioneering plans to turn Brighton and Hove into a focal point for health enterprise and innovation have received support from Greater Brighton.
University of Brighton researchers are joining forces with entrepreneurs and community groups to build a social and commercial network tasked with improving health, accelerating innovation and enhancing competitiveness in the city area.
The university's Healthy Futures will be the platform for new partnerships which will bring new technological solutions in disease preventions, diagnoses and advanced clinical treatments while developing new models for children mental health and adult health care. The collaboration of businesses and organisations with the university will also foster high-skill training, students' placements and jobs.
The first Healthy Futures Entrepreneurs Café in the city was attended by representatives from companies producing biomedical, pharmaceutical and digital health products and innovation as well as leaders of social enterprises on the front line of family therapy, youth mental health and adult primary care.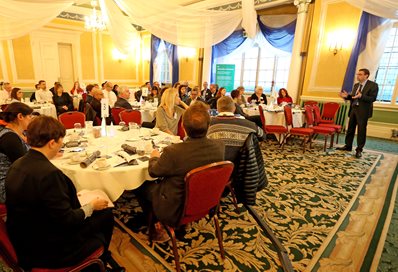 Councillor Garry Wall, Chairman of Greater Brighton, said: "Collaboration between public authorities, private businesses and academia is crucial if we as a City Region, stretching from Brighton north to Gatwick, are able to continue to grow and fulfill our potential.
"For that reason I'm delighted to see this initiative around the very important area of health innovation and research start so promisingly. We already have a number of world leaders in this field and, thanks to initiatives like the entrepreneur cafe, I'm sure that number will keep on growing in the future."
Organisations and companies also backed the initiative.
Matthew Jellings of Engie, a leading energy and services group, said: "It's exciting to be part of an initiative that will benefit the citizens of Brighton and Hove and deliver excellence."
Geraldine Desmoulins, Chief Officer, Possability People which offers advice and support on disabilities, said: "Activity is not integrated – it's fragmented and siloed. This will bring organisations together with a common purpose."
Dr Arash Moavenian, Head of Research and Innovation, Welland Medical which designs and manufactures ostomy accessories, said: "This a great initiative that presents a new window of opportunity for connection and collaboration."
Professor Matteo Santin, Academic Lead for Healthy Futures, said: "The first meeting with businesses and organisations proved a great success and I am grateful for all those who attended. I am impressed by the wide range and number of social enterprises, charities, biomedical and digital start-ups and SMEs and large pharmaceutical and diagnostics companies located in our city and surrounding areas.
"We believe that in the long term the city has the potential to emerge as a model for health enterprise where societal needs are addressed through pioneering approaches and where organisations thrive through public and private investment."
Two further entrepreneur cafes will be held in 17 April and 28 June 2019.